The Purpose Driven Life Project (Re-visited)
We want to set you on fire.
You are called to join us in this 40 day journey of discovery through the word of God. It is our prayer that you will discover afresh the full depth and breadth of your design in Christ.
You can sign up here; https://pfojc.org/fire-walker-for-christ/
Without an identity in Christ, your life has no purpose. It all starts at the Cross. Faced with the blood-drenched body of Jesus pinned to a dead tree you find your solace and He, the custodian gate keeper of the Holy Spirit, propels you with new purpose.
You are invited to join us on a 40 day journey in the Word. We will be basing this journey on the book, "The Purpose Driven Life" that was written in 2002 by Rick Warren.
It was updated in 2012 and the kindle version which is available on Amazon has the links to all the online material, which was not available at the time that I did this series.
As we go along I will put in the links to the online material. The new version points you at the online material.
You can find the first of the pages here and they cycle through from there;
Day 1..
http://www.purposedriven.com/day1/
Day 2..
http://www.purposedriven.com/day2/
etc.
For many of us this will be a re-walk along a path previously trodden. But in all things "God" we will undoubtedly discover how much we missed and stand astounded at how much more there is to learn. The last time I came away from the 40 day walk with a hunger for God that has never abated. My prayer is that you will join us and experience the magic and abundant grace that our Triune God has gift wrapped for you. All you have to do is receive.
It is our hope and request that during this 40 day period you will share the day's message with someone around you or possibly institute an evening study with your closest friends or family.
Rick Warren in the opening pages the book "Purpose Driven Life" quotes Ephesians 1:11 from the Message;
Ephesians 1:11-13
It's in Christ that we find out who we are and what we are living for. Long before we first heard of Christ and got our hopes up, he had his eye on us, had designs on us for glorious living, part of the overall purpose he is working out in everything and everyone.
It's in Christ that you, once you heard the truth and believed it (this Message of your salvation), found yourselves home free–signed, sealed, and delivered by the Holy Spirit. (MSG).
Many of you may still have your dust covered copies on the shelf or ask around there could be friends with copies.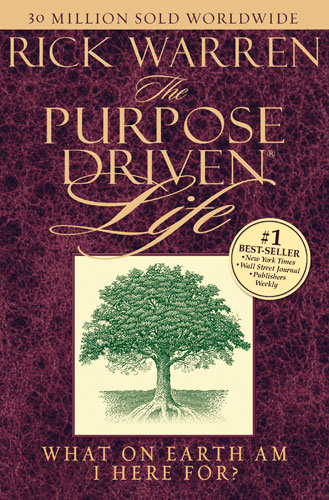 This interview by John Piper of Rick Warren on doctrine as presented in the Book is a good review to listen to in preparation.  https://youtu.be/LImVHzy7WtU
The book "The Purpose Driven Life" is available on Amazon in Kindle form for £1.49 – (Cheap for a shot at eternity) Just follow the link here : https://goo.gl/c4QN6B
We are now in the lead up time to the start of the 40 day walk through the book. You are being asked to get yourself and the participating group ready by praying about it, calling others to join us and praying for those who will be contributing to articles and commentary which will be published on a daily basis. You are invited to add your comments and observations daily as we progress. There is a Chinese proverb that says "Every 1000 mile journey starts with the first step."
Send this link : https://pfojc.org/purpose-driven-life-project/  to anybody you think may want to join us or simply unsubscribe if you do not want any further updates or want to participate. You and your friends will be able to leave or join at any time during the process.
Our intention is to embark on the 40 days starting on Monday 7th of November 2016 (first day) finishing on the 16th of December 2016 (day 40). That Monday being the first day of the 40 days as reflected in "The Purpose Driven Life".
Don't let this be your legacy ~ Jesus saying "I never knew you?" ~ how scary is that. Look at Jesus words in Matthew 7:20 – 23 (from the ESV)
Thus you will recognize them by their fruits. "Not everyone who says to me, 'Lord, Lord,' will enter the kingdom of heaven, but the one who does the will of my Father who is in heaven.
On that day many will say to me, 'Lord, Lord, did we not prophesy in your name, and cast out demons in your name, and do many mighty works in your name?'
And then will I declare to them, 'I never knew you; depart from me, you workers of lawlessness." (ESV)
Please sign up here if you are not already on the mailing list; https://pfojc.org/fire-walker-for-christ/